Students of Thu Dau Mot University win the highest prize of the programming contest Smart City Hackathon Binh Duong 2016
By admin Posted 4/12/2016 3:34:22 PM
In the framework of the Smart City Conference took place from 26 to 28 of March by People's Committee of Binh Duong, Becamex Group combine with the Dutch Consulate General in Ho Chi Minh City, the students of the University of Thu Dau Mot excellent got the first prize of the programming contest Smart City Hackathon.
Hackathon Binh Duong 2016 is the contest for all young people who addict to technology, create useful products to change society and improve people's life. The contest attracted 44 teams (maximum 5 members in a team) from universities whole Vietnam and a team from Dutch. Team TDMUG1 includes 4 members are students Duc Binh, Tien Thanh, Huu Ky, Huy Linh from the Faculty of Information Technology.
Spend 24 hours continuous programming, TDMUG1 brought E-hotline product to the contest that has function announce emergency news from individual phone installed the software to appropriate authorities. With high application and suit the reality needs, the product of team TDMUG1 won the highest prize of the contest with the prize value 50 million dong. Besides, the organization department also awarded the best technique for team Beautifier, the most creative product for team Eindhoven (Dutch), the beginning program for team Handication.
With programming ability was proved of the student of information technology ology – Thu Dau Mot University, the E-hotline product impressed participants. The province leader suggested the Faculty of Information Technology to continue to support students research, perfect the product in order to deploy serving functional forces of the province and ensure a safety life and quality life for people.
Deputy Mayor of Eindhoven City, Dutch opens the contest (Photo by Tuan Anh)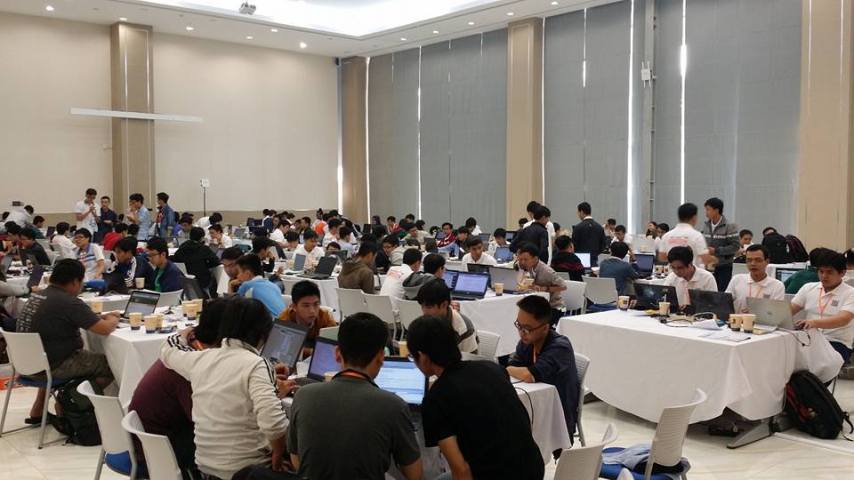 Programming night without sleep (Photo by Tuan Anh)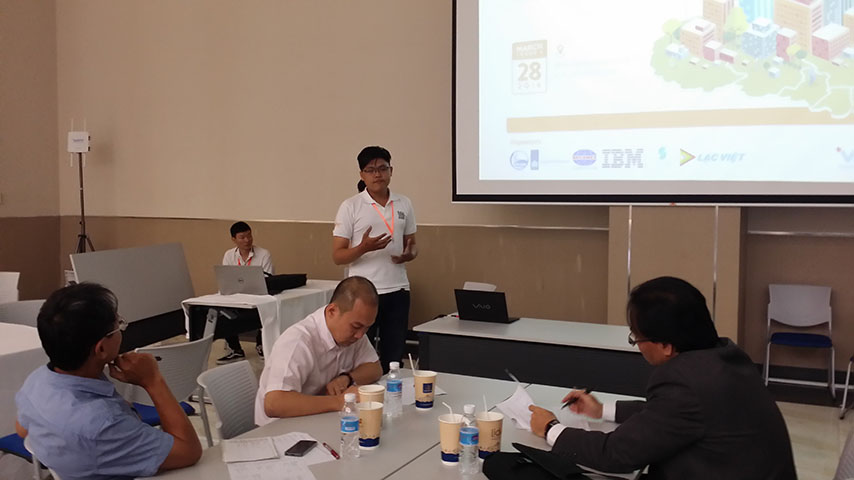 Confident present the idea in front of the jury (Photo by Tuan Anh)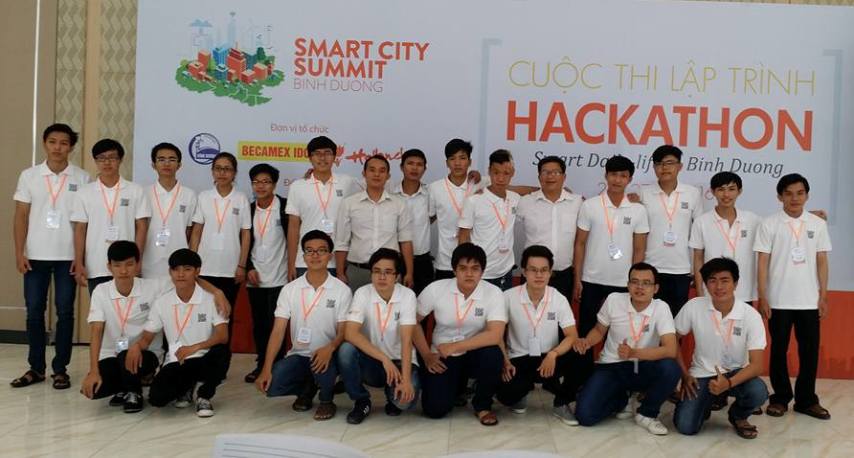 MA. Le Tuan Anh – Dean of the Faculty of Information Technology (line 5 from right) with lecturers and members of 5 team of the school that there are 2 teams enter top 15 (Photo by Tuan Anh)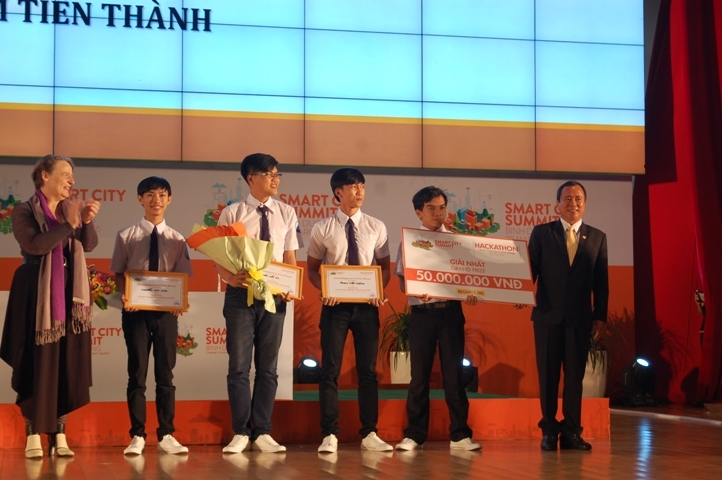 The students of the Thu Dau Mot University honored receive the prize from Mrs. Mary Ann Schreuers – Deputy Mayor of the Eindhoven city (Dutch) and Mr. Tran Van Nam – Provincial party committee secretary of Binh Duong (Photo by Duc Quy)
BBT