Collaborative research, development of biological products with Phuong Nam Company
By admin Posted 4/19/2017 2:54:35 PM
On 23 March, 2017, the Faculty of Biotechnology of Thu Dau Mot University and Phuong Nam Biological Company organized the signing ceremony of a memorandum of understanding (MOU) on scientific research and technology transfer in the development of biological products for serving life.
In the speech at the signing ceremony, Assoc. Prof. Dr. Nguyen Van Hiep-Rector affirmed that the scientific research and technology transfer must be attached to the training; the two missions were always go together, in which the scientific research had role to support and enhance the quality of the "product" of training. Over the years, the School converged the high-quality teaching and researching science staffs, promoted the scientific study movements of the School in most of fields: engineering, economics, education and society. Especially, the biotechnology sector achieved many outstanding achievements; the research results were transferred for local replications, organizations, personal needs. The typical products, which were marketed as edible mushroom, medicinal mushrooms, biological products for cultivation, livestock ... The Assoc. Prof hoped to further enhance the ability to transfer the results of School scientific research, actively find out opportunities to cooperate with enterprises to timely implement of research results into practice.
Speaking at the meeting, Ms. Vo Thi Hanh, Director of Phuong Nam Biological Company was impressed by the development of the School along with the tremendous achievements in training work-scientific research. She insisted, with the support of the professional team and the modern school's laboratory system, the two sides will join the domestic and international projects on the topics of research in the field of biotechnology; coordinated study produce biological preparations to develop in agriculture, fisheries and human life. Thereby, contributed to improve the effectiveness of research activities in biotechnology, and bring practical benefits for business, schools and the community.
In the framework of the meeting, the two sides unified to sign these specific cooperation terms: the Faculty of biotechnology research and building clear nattokinase technology process from the rough nattokinase products (scale > 10 kg rough/batch) by Phuong Nam Biological Company; the Faculty of biotechnology researched the manufacturing process and methods for preservation of trichoderma sp. 10 9CFU/g with a time limit of 12 months, at room temperature; the two sides cooperated to participate in domestic and international projects in researching of exploitation and probiotics production to serve agriculture.
At the end of the meeting, on behalf of the School leadership, Assoc. Prof. Dr. Nguyen Van Hiep applauded and encouraged the cooperation between the Faculty of biotechnology and Phuong Nam Biological Company, at the same time supported the research directions that two units determined to deploy in the coming time. He believed, in the future, this cooperation relationships would be maintained and developed with the projects of key and strategy cooperation to bring practical benefits for the School, business and society.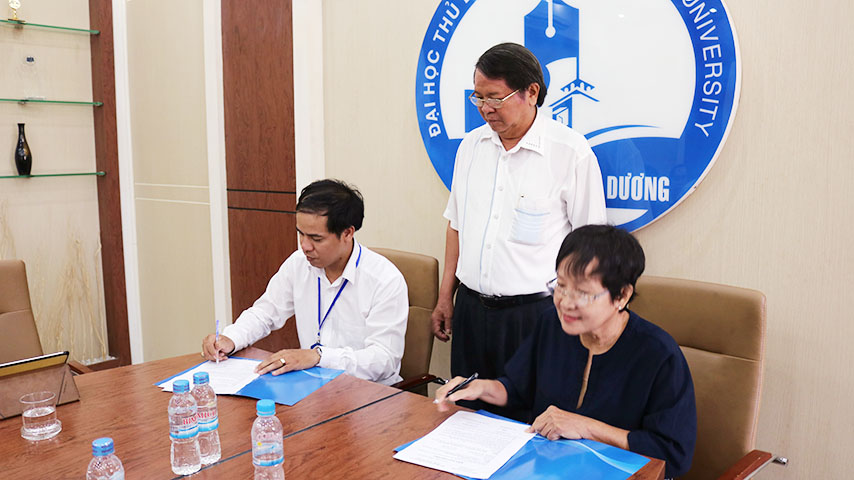 Assoc. Dr. Nguyen Thanh Binh - Dean of Faculty of biotechnology and Ms. Vo Thi Hanh – Director of Phuong Nam Biological Company signing memorandum of cooperation/
Assoc. Dr. Nguyen Van Hiep believed, in the future, this cooperation relationships would be maintained and developed with the projects of key and strategy cooperation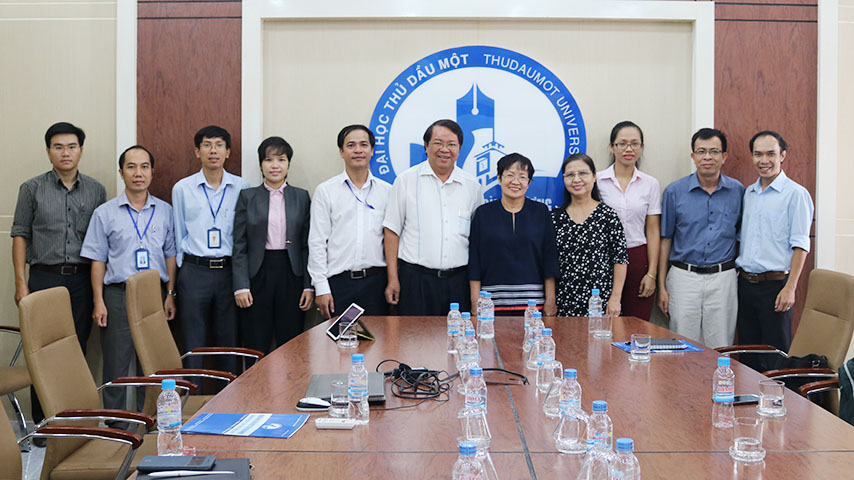 The relationship of cooperation between the two sides contributed to improve the effectiveness of biotechnology, brought practical benefits for business, School and the community
Dr. Nguyen Thi Lien Thuong introduced products, which were studied successfully