Thu Dau Mot University is in charge of operating the fabrication laboratory (Fablab)
By admin Posted 11/18/2019 4:38:07 AM
Originating from the goal of creating a favorable environment for forming and developing an innovative startup ecosystem in the community, universities and businesses in Binh Duong province, 03 Fablab will be constructed, installed, including 01 Fablab for research activities in the field of Applied Biotechnology at Thu Dau Mot University, Fablab is expected to open for service in December 2019 under the management and operation of the Experimental Research Center.
In August 2019, the People's Committee of Binh Duong Province approved the decision to set up three laboratories, experimenting/fabrication in the province, including one located at Thu Dau Mot University. Laboratory, fabrication laboratory (Fablab) is a sub-project within the framework of the project "Supporting start-up ecosystem for innovating nation to 2025" in Binh Duong province in the period of 2017 - 2025.
The purpose of a decision approving the Fablabs establishment project aims to create a space for scientific research to help the community develop their capacity and passion for research, especially arousing creativity in young people. Fablabs is expected to a place promoting, forming ecosystems and startup communities for a number of industries with high growth potential on the basis of innovation (Electronics - Information Technology, Robotics and Automation, Biotechnology, manufacturing engineering, etc.) and other fields that has a great significance for science and technology, being capable of promoting development and strengthening development socio-economic at local.
With potentials and strengths in scientific research and technology transfer, over several years, Thu Dau Mot University has become a place for meeting, sharing knowledge and exchanging ideas of officials-lecturers-students, businesses... Continuing to promote this strength, when Fablab is into action, the University's research and technical staff will operate and guide the use of machines and equipment to support individuals and businesses to create products base on research ideas. At the same time, the Thu Dau Mot University also creates a counseling channel, to encourage young people developing their own creative capacity, turning research initiatives into reality; To help researchers connect, collaborate with businesses, turn ideas into applied products to the market.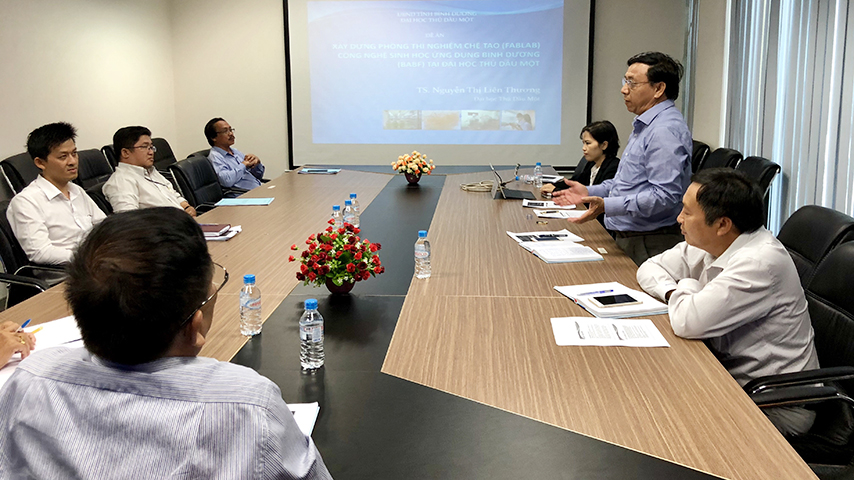 The meeting between Thu Dau Mot University and leaders of the Department of Science and Technology to exchange about installing the Fablab room at Thu Dau Mot University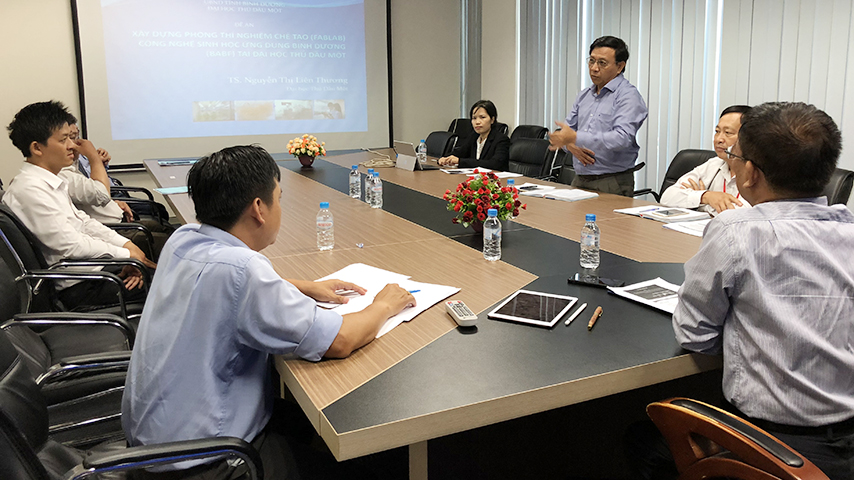 Assoc.Prof. Dr. Hoang Trong Quyen - Vice Rector speaks at the meeting
BBT
( images: TS.Nguyễn Thị Liên Thương)