Training on V2Work project implementation
By admin Posted 1/8/2020 11:08:35 PM
As one of 8 member schools in Vietnam participating in V2Work project, in early July, Thu Dau Mot University sent a team of leaders and experts in charge of international cooperation and labor market to attend the training program of this project in Nha Trang.
Training course for expert and coordinators of the project took place at Nha Trang University, with the participation of experts from Alicante University (Spain), Coimbra University (Portugal) and 28 members from 8 universities participating in the project in Vietnam. The training content focused on solutions to build and develop employmant centers and start-up at universities in Vietnam, to increase career opportunities for students in the current social context. Specifically, that's to discuss and propose ways to approach businesses and external partners, approach and support skills development for students, how to create networks that connect students, businesses and alumni , local governments, employment centers of schools, regions, ways to attract students, businesses and mobilize them to actively participate in the employment center's activities. Besides, the training course also discussed and proposed solutions to promote the interest of school leaders in the operation of the employment center; as well as approach, update alumni information and make them a bridge the gap between businesses - students, facilitating the activities of the employment centers in the future.
In the framework of the program, the coordinator's meeting detailed 8 projects, the process of making and submitting reports, implementing the seminar at the unit after the training for expert, English training plans for officers in employment centers, providing equipment to run projects and related issues about finance of the project.
V2Work stands for "Strengthening the Vietnamese Higher Education System to improve the employability and entrepreneurship skills". It can be said that the project brings many practical benefits for graduate students to improve opportunities in the field of job search and start-up. In addition, the project also contributes to the construction and modernization of employment centers for 8 members in Vietnam, creating an extensive network of employment centers between universities and regions across the country, networks between businesses - universities, business networks - students, alumni networks. This is an opportunity for Thu Dau Mot University lecturers to work in a professional international environment, and at the same time sharing and learning experiences from the others. The next training course is expected to take place at Vinh Industrial University in October 2018.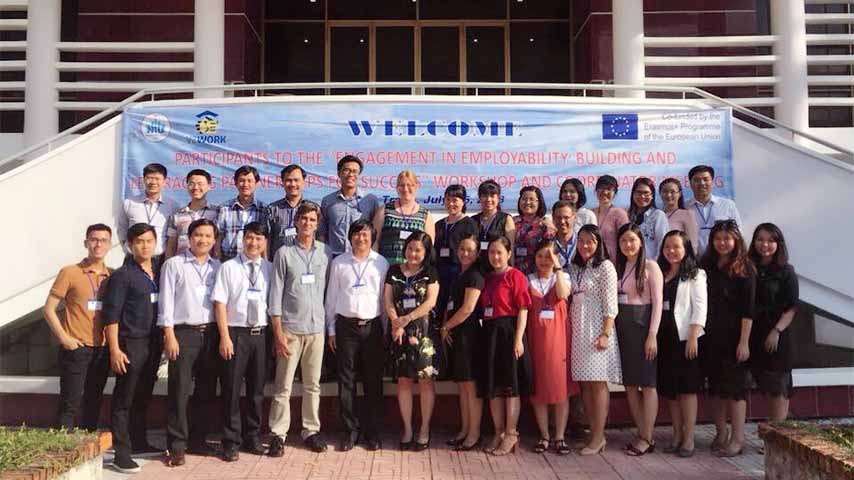 The members from universities attend the project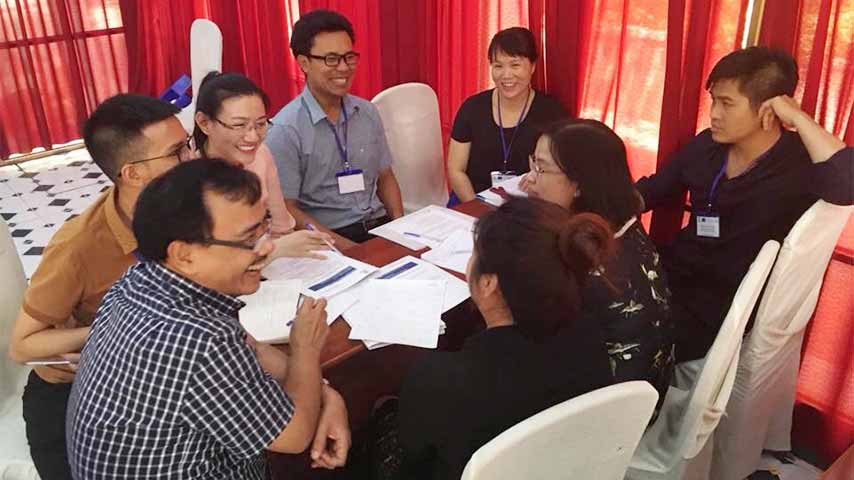 Teamwork in the training content
Kim Hải